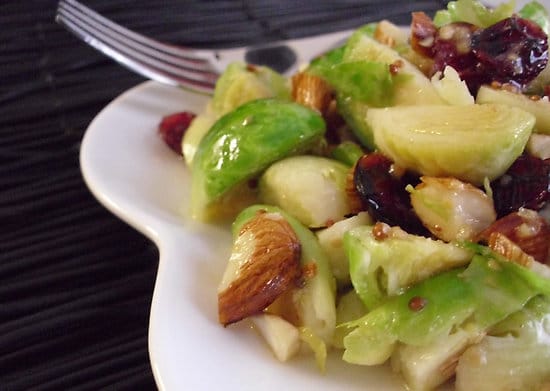 [vc_row][vc_column][vc_column_text]Kids, I know that most of you are aware that I wrote the recipes in P90X creator,
Tony Horton's
book,
Bring It
, but not all of you own the book, so I wanted to share some of these delectable delights with you here on Karma Chow! Of course, this shouldn't deter you from buying this awesome book, as Tony put together a revolutionary plan for all levels of exercisers, even non-exercisers that are thinking of starting. It even includes a simplified version of my 30-day
Vital Life Cleanse,
which has helped hundreds of people change their eating habits into a healthy lifestyle and build a new awareness around
What they are eating, When they are eating and Why they are eating!
One of my favorite recipes in the book is the Brussels Sprout Saladwith Cranberries and Almonds. Most people don't like Brussels sprouts but this recipe has converted a lot of those 'haters' into lovers of these nutrient packed, cruciferous orbs. This recipe was inspired by a salad that I love and eat often at LaGrande Orange in Santa Monica, which is now known as M Street Kitchen. I've gotten pretty close to replicating it, without the cheese of course! I hope you will enjoy it as much as I do[/vc_column_text][/vc_column][/vc_row][vc_row][vc_column width="1/3″][vc_single_image image="5451″ img_size="full"][/vc_column][vc_column width="2/3″][vc_text_separator title="INGREDIENTS"][vc_column_text]
1 lb. Brussels Sprouts, end cut off and thinly sliced or shredded
1/2 c. almonds, smoked or roasted
1/2 c. dried cranberries, preferably apple-juice sweetened
Lemon Vinaigrette (see below)
Sea Salt & Freshly Cracked Pepper
[/vc_column_text][vc_column_text]Blanch Brussels sprouts in boiling water for 3 minutes. Drain and set aside to cool. Once cool, place in a large bowl and add almonds and cranberries. Toss with vinaigrette and season with salt and pepper. This salad will be better the next day when the flavors marry in the refrigerator over night! Great to bring to a party or bbq and share with your friends![/vc_column_text][/vc_column][/vc_row][vc_row][vc_column width="1/3″][vc_single_image image="5452″ img_size="full"][/vc_column][vc_column width="2/3″][vc_text_separator title="LEMON VINAIGRETTE"][vc_column_text]
Juice of 1 lemon
1/4 c. olive oil
1/2 c. brown rice vinegar
1 tbs dijon mustard
1 tbs agave nectar
1 shallot, minced finely
[/vc_column_text][vc_column_text]Puree all ingredients together in a blender or shake in a shaker bottle. Save remaining dressing to use for other salads.[/vc_column_text][/vc_column][/vc_row]