&nbsp

Kale + Cherry Salad with Caramelized Onions
High nutrient kale, paired with sweet, antioxidant rich cherries, makes this sassy salad a nutrient packed, party in your mouth.
I like to use red onions for caramelizing because they are sweeter when cooked down, but feel free to use yellow, white, vidalia or even shallots if you prefer.
The dark cherry juice used for the dressing has been known to help insomnia, as well as support the cleansing of the blood. This salad is an all around healthy feast for the body!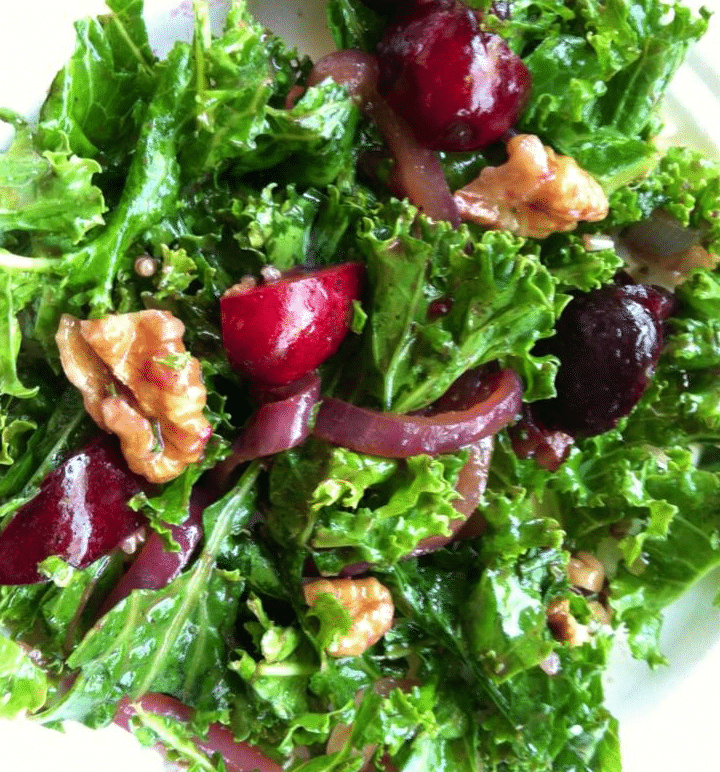 Serves 4 (as a side salad)
1 head curly Kale, stems stripped, broken into small pieces and massaged with
drizzle of olive oil
1 large red onion, thinly sliced into ¼" round
2 teaspoons olive or coconut oil
1/3 cup walnuts
CHERRY BALSALMIC DRESSING
1/3 cup black cherry juice (unsweetened)
1 tablespoon Dijon mustard
1 tablespoon grade B maple syrup
2 tablespoons balsamic vinegar
3 tablespoons olive oil